In Betsoft's newest smash hit OGRE EMPIRE, join the townspeople of a fantasy kingdom with a rather inconvenient Ogre problem!
Ogre Empire
As you can expect from any Betsoft slot, Ogre Empire features vibrant 3D graphics
Visit a land of magical enchantment, where kingdoms are the home to Kings and Queens, Jokers and… an Ogre?!
In Betsoft's newest smash hit OGRE EMPIRE, join the townspeople of a fantasy kingdom with a rather inconvenient Ogre problem! An innovative Day/Night cycle switches up gameplay and allow players to experience what life is like for the people who live in the town.
During the day, the Ogre is awake and active while the townsfolk sleep. And it's no wonder, as the Ogre will occasionally smash stone symbols, offering extra rewards! Once night falls, the Ogre will drift to sleep and the townsfolk emerge from their stone homes. Only appearing on the reels during night mode, they bring with them royal rewards! Higher payouts aren't the only benefit of night mode: the Joker emerges as well and brings with him merriment and 2x WILD WINS!
The Joker certainly isn't the only wild find in this kingdom! Both Day and Night offer a special WILD flower blossom. Watch the magic grow and expand, as each flower blossoms and grows or shoots spores, turning other symbols on the reels WILD!
In OGRE EMPIRE the struggle is reel and the rewards are nothing short of mythical!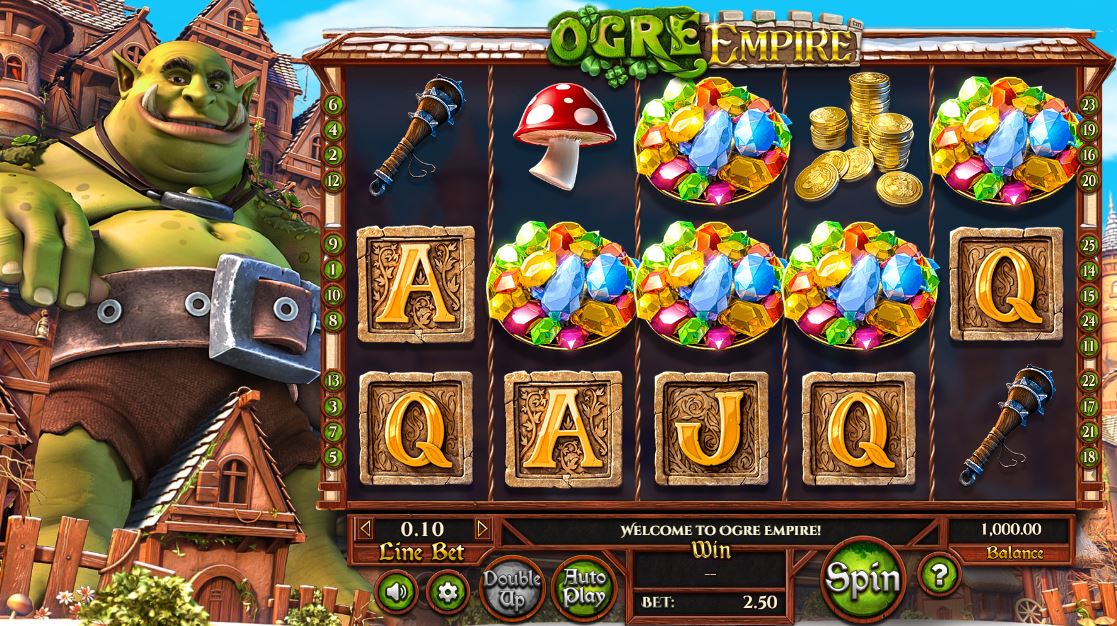 Ogre Empire specials
Day & Night Modes
Life is different from Day to Night. As the reels change, so does gameplay. Daytime brings with it the Ogre's unstable nature, where he may smash the reels. At night, the townsfolk come out to play and bring with them BIG WINS!
Day & Night Bloom Wilds
During the Day players can find the magical Day Bloom Wild, a wild flower that blooms only during the day and will spread to up to three other adjacent symbols! At night, players can find the mystical Night Bloom Wild, a wild flower that blooms only at night and shoots its glowing spores on up to three other symbols ANYWHERE on the reels, turning them wild as well!
Joker Wilds
At night, along with the return of the King and Queen, the Joker comes out to play! When he appears on the reels he brings with him merriment and a WILD nature that is also a 2x multiplier!
Whether you want to play for free or for real money, this pokie is definitely a thrilling game to try.
Ogre Empire game features
Game Name: Ogre Empire
Release Date: May 28th 2018
Game Type: Slots3™
Reels, Paylines 5 Reels, 25 Paylines
RTP 95.22
Max Possible Win: € 25,000.00
Supported Platforms Desktop (HTML5), Mobile (iOS, Android, Windows Phone)
Jurisdictions: Malta
Total Download Size 29.6 MB (Desktop) 9.7 MB (Mobile)
Initial Download Size 17.3 MB (Desktop) 7.3 MB (Mobile)
Desktop Est. Load 40 Seconds @ 5Mbps
Mobile Est. Load 21 Seconds @ 3G Speeds
Give this amazing video slot a spin here for free or visit any of the Betsoft Casinos to play for real money.
Betsoft
Betsoft built a reputation as one of the world's leading producers of high-quality igaming products. They offer an unparalleled level of service, supported by a solid team of experienced account managers, engineers, software developers, game designers, graphic artists, 3D animators and marketing specialists. In addition to the large stock of cinematic 3D games, their product suite also includes a fully equipped casino management platform. Betsoft's commitment to excellence has made them a leader. Betsoft obtained certifications and licenses in numerous igaming markets. As a result of these efforts and the quality of the products, they have built up a loyal customer base. Betsoft currently serves a large number of operators in both Europe and North and South America.
Place2bet wishes you the best of luck with "Ogre Empire | Bloom Wilds & Joker Wilds"
Gamble in moderation. Enjoy the game.

Check the best online dice slot tournaments
Check out the cheapest tournaments
Progressive Jackpots Casinos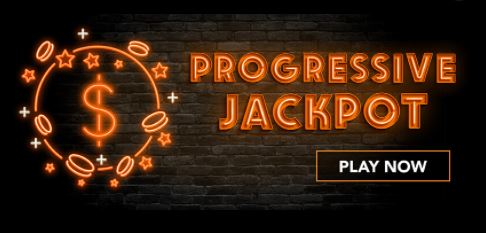 Almost every Belgian casino has progressive jackpot games in its arsenal and we list some of them.