Reign of Ice has the Hammer Respins feature. When the special Hammer wild symbol lands on reel 2, every Barbarian and Valkyrie symbol that lands on that spider has the chance to break the ice and free the Hammer
Kingdoms Rise: Reign of Ice
Kingdoms Rise: Reign of Ice is a 25-line slot with an icy setting, loosely based on Norse mythology. It has an RTP of 96.07% including the jackpot contribution and assuming the use of game chips.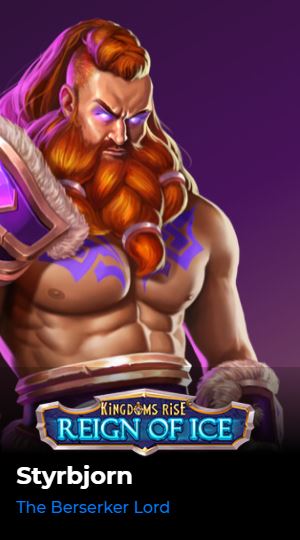 Reign of Ice Bonus features
Reign of Ice has the Hammer Respins feature. When the special Hammer wild symbol lands on reel 2, every Barbarian and Valkyrie symbol that lands on that spider has the chance to break the ice and free the Hammer. Up to 4 hammers can be released in this way.
Each hammer starts a respin session.
During the respins, all regular wilds that land (only on reels 3, 4 and 5) are frozen in place for the remainder of the respin session.
Respins continue until a Hammer wild lands on reel 2 and recaptures the Hammer; any winnings it is part of are multiplied by the value shown on the multiplication bar (unless more than one hammer is released, it will be 1). If there are any free Hammers left, a new respin session will begin, keeping one of the frozen wilds (if any) from the previous session.
Hammer Respins shows up often, but usually with just one Hammer and the results can be quite disappointing.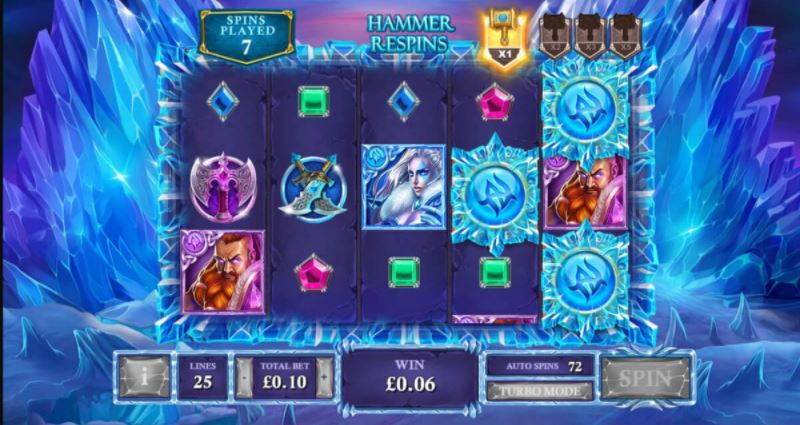 Play Kingdoms Rise: Reign of Ice
Shop bonus features
Hammer Respins – 400 or 1500 tokens
This is the same function as in the base game. The prize of 400 awards 1 hammer and the prize of 1500 awards up to 4 hammers (the number is set randomly)
Barbarian Respins – 800 Tokens
This feature is played on reels that contain only ice barbarians and empty spaces. The counter starts at 3 spins; it is decreased by 1 if no icebarbarians land and reset to 3 if no icebarbarians land. There is also a multiplication meter; the active multiplier is applied to wins after each respin in which ice barbarians land. The feature ends when the respin counter reaches 0 or the reels are completely full of ice barbarians.
Valkyrie Respins – 1000 Tokens
This feature is similar to Barbarian Respins, but each symbol carries a cash prize and each reel has a 5x multiplier that is triggered when all three fields are filled with Ice Valkyries. The amount won will be calculated when the feature ends; again, this is when the respin counter reaches 0 or the reels are completely full.
Play Reign of Ice on Ladbrokes.be – Play safe and legal!

Ladbrokes is an international brand operated in Belgium by DERBY N.V., a subsidiary of the multinational GVC Holdings PLC. GVC Holdings PLC is listed on the London Stock Exchange and enjoys an excellent reputation around the world through its network of agencies and the various digital channels it operates. The London-based company, which has been in existence since 1886, has a turnover of more than £ 16 billion and employs a staggering 15,000 people worldwide.
Right from the launch, the online casino section of Ladbrokes already features hundreds of different casino games. Video slots, Roulette games, Blackjack almost all popular casino games can be found here.
Place2bet wishes you the best of luck with "Reign of Ice | Kingdoms Rise | Bonus Features"
Gamble in moderation. Enjoy the game.

Check the best online dice slot tournaments
Check out the cheapest tournaments
Progressive Jackpots Casinos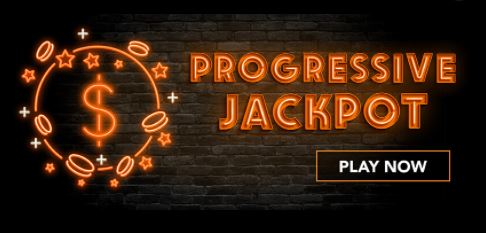 Almost every Belgian casino has progressive jackpot games in its arsenal and we list some of them.